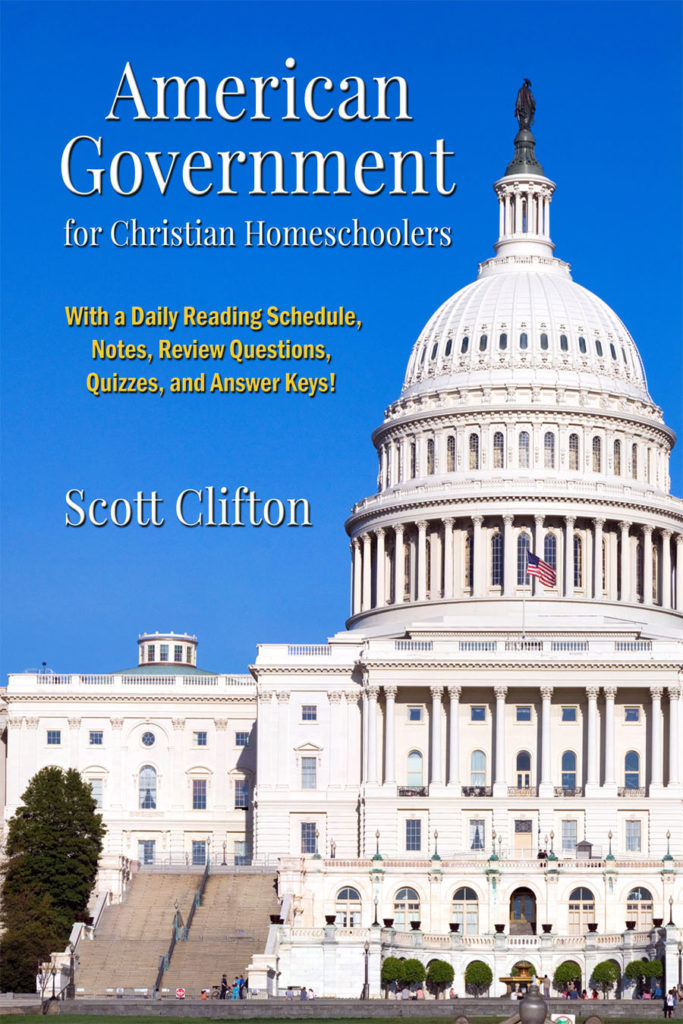 Are you tempted to throw your shoes at the TV every time you see yet another (Gro-o-oan!) brainwashed college student spouting socialistic nonsense? Are you determined to arm your high schoolers with the truth about big government?
Do you want your teens to (a) learn how to defend a Christian viewpoint of government that focuses on conserving liberty, and (b) have fun while they learn?
Are you looking for American Government and Civics programs that your high schoolers can handle on their own, and enjoy, with well-organized, easy-to-follow daily/weekly reading schedules?
Then set your teens up with American Government for Christian Homeschoolers!
Self-directed for students…fun and faith-affirming…and a breeze for parents!
American Government for Christian Homeschoolers features clear, punchy daily readings, with daily review questions to help students get the most out of what they read. Answer keys are included, so your high schoolers can free you up by checking their own answers if you want!
Look what you get with this program:
A Christian worldview that (Of course!) champions small government
A handy, daily/weekly reading schedule with review questions
FREE review question answer keys
FREE quizzes, with answer keys (easy for Moms to score!)
A sense of humor so students have fun while they learn!
FREE Book Sample – American Government for Christian Homeschoolers (Right click and choose "Save Link As" to download)
In a day where many Americans clearly have no idea what the Bible and the Constitution say about government, you can set your teens up for success!
(And save your TV and shoes.)


The best resource available.
We used [American Government for Christian Homeschoolers] for our freshman boy's education. It was fantastic. The format was easy for him to follow. And the frequent consideration of God's Word and principles made a great impact on his thinking.


God-honoring and eye opening book!
Scott Clifton has a very engaging way of pulling the reader into American Government learning without any resistance.  He is humorous, down to earth, and makes AG relevant to the point of inspiring students to take action on their beliefs….[T]his well written book brings to light parts of history that were not taught to me in public school; this, completely opening my eyes to a more realistic picture of what pitfalls our political leaders have found themselves in, as well as what distresses they have in turn put our country into….I highly recommend this book as an excellent choice for High School American Government.  I teach an AG class for our homeschool coop, and this book has proved easy to read, easy to teach from, and easy to understand.  With the added bonus of already-put-together quizzes, it is easy to test with. I look forward to using his Civics book next year.


Easy to follow
My 14 year old daughter enjoyed [American Government for Christian Homeschoolers]. It is organized well, and she needed very little instruction to complete her weekly assignments.  Additionally, she learned a lot!  We were impressed by how often we heard "Did you know…?"  Highly recommend this curriculum!


Highly recommend
My 15-year-old homeschooler enjoyed this book and learning from it.  Scott has a way of writing and delivering the material in his books that just resonates with the student.  My son is a math/science guy and doesn't love to read; however, he learned a great deal in Scott's classes as his material is broken up in small lessons and easy to follow.  We are looking forward to more material like this next year at Home School Partners where all the material is fresh, clear, and on point with what I want my son to learn while in high school.


Great American Government textbook
My daughter enjoyed the layout of this book: the short daily readings were interesting, informative, often with funny anecdotes, and easy to understand, all within a Biblical framework.  She learned a lot and has a solid grasp of the historical foundation and present status of the American government.

Each volume is available at Amazon.com; just click on link to open up its specific page below! As an Amazon Associate, I earn from qualifying purchases; if you make a purchase from one of these links, I receive a small commission. This doesn't affect the price for that item!