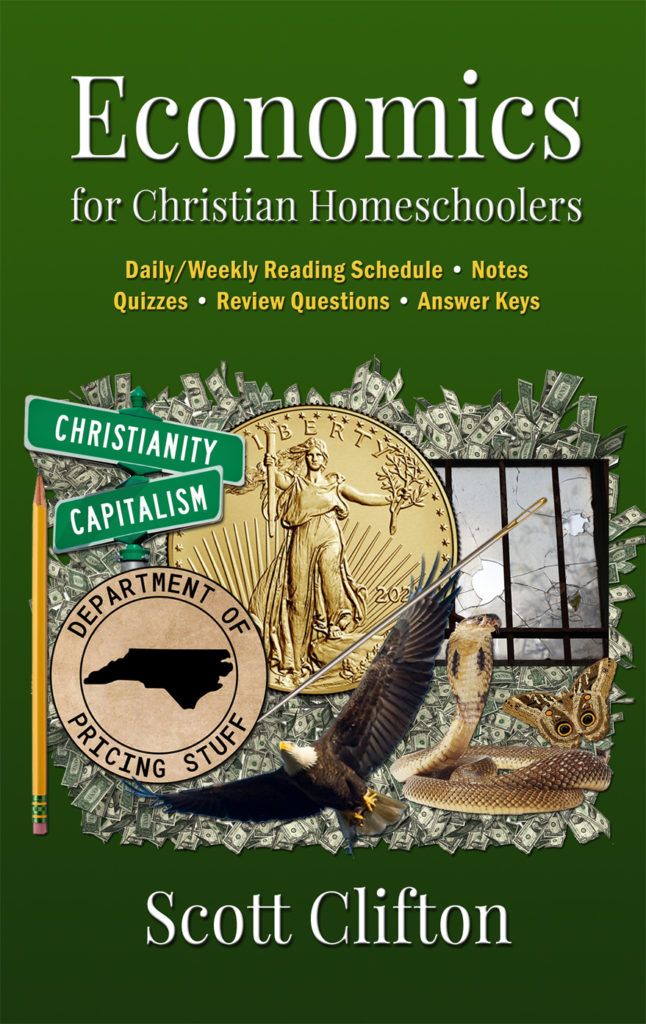 Economics, we are told, is too complicated for anyone to understand except "the experts" (those experts who support the policies of those in charge, of course!). We're also told this: "Just let the experts make economic decisions for us. And don't worry; there's no way these experts would ever make economic decisions to benefit themselves, at the expense of everybody else."
Yeah, right.
Economics for Christian Homeschoolers is a 15-week program that will teach your teens how to understand and defend a Christian, free-market view of economics, with plenty of practical examples, clear explanations, and humor. Each week is broken up into four short, daily readings, and every day's reading has follow-up questions to make it fun and edifying for students.
Many potentially intimidating and challenging economics concepts are broken down for students, analyzed through the lens of Scripture, and made plain and understandable. Students who finish Economics for Christian Homeschoolers will be able to defend a Biblical worldview of economics…and the subject of government as well, since, unfortunately, so many rulers throughout history have tried–wrongly and unsuccessfully–to "run" their nations' economies.
Here's what you get with this program:
A Christian worldview that promotes limited government interference in the economy
A handy, daily/weekly reading schedule with review questions
FREE review question answer keys
FREE quizzes, with answer keys (easy for Moms to score!)
A sense of humor so students have fun while they learn!
Free Book Sample:
Economics for Christian Homeschoolers is available at Amazon.com; just click on link to open up its specific page below! As an Amazon Associate, I earn from qualifying purchases; if you make a purchase from one of these links, I receive a small commission. This doesn't affect the price for that item!