Get 30+ college credits for your student through Home School Partners high school co-op classes!
All HSP classes are taught from a Christian worldview, and the college credits come from a nationally accredited college, which means they'll transfer if you want your student to finish up anywhere else.
Not excited about the prospect of sending your homeschooled high schooler to "woke," anti-Christian community colleges? Home School Partners has you covered!
Three FREE Gifts For Your Homeschool Family!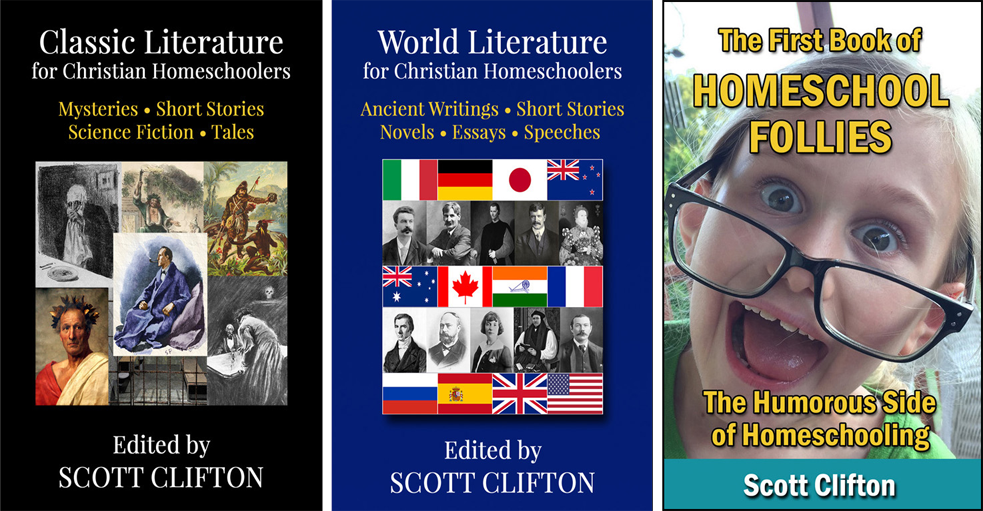 Looking for great literature sets for your Christian homeschooled high school student—with a reading schedule, review questions, quizzes, answer keys, and a Christian worldview? Click the button below to get your free copy of all three books: Classic Literature (two-week sample), World Literature (two-week sample), and The First Book of Homeschool Follies.
---
Need an enjoyable, wholesome, self-directed literature program for your Christian homeschooled high schoolers? Set your teens up with some great reads—then watch them take off on their own and have fun doing it!

You love your kids and want them to read the best stuff: true classics, not just any old writings that the world calls "classics." Literature for Christian Homeschoolers is an exciting, faith-affirming, structured literature program with everything your students need for success.

Scott Clifton—author, homeschool dad of seven, and high school co-op literature teacher since 2002—has scoured the world (and a few other planets) for just the kind of fiction and non-fiction you want your young person to read.
These sets are packed with high-quality essays, novels, short stories, speeches, letters, and poems—including many hidden gems you've probably never even heard of! And each of the four Literature for Christian Homeschoolers sets (American, Classic, British, World) is designed to make reading fun and edifying for students, and a breeze for homeschooling parents.

Here's what you'll get with Literature for Christian Homeschoolers:

• Varied readings that will captivate and build up your teen student
• A handy, 30-week, 4-days-per-week reading schedule
• Intros, footnotes, and review questions (with answer keys!)
• Easy-to-score quizzes (with answer keys!)
• A Christian worldview throughout

Buy Literature for Christian Homeschoolers for your homeschool family today!