Literature for Christian Homeschoolers
New! Click here for middle school literature!
Four Years of High School, Four Sets of Literature Available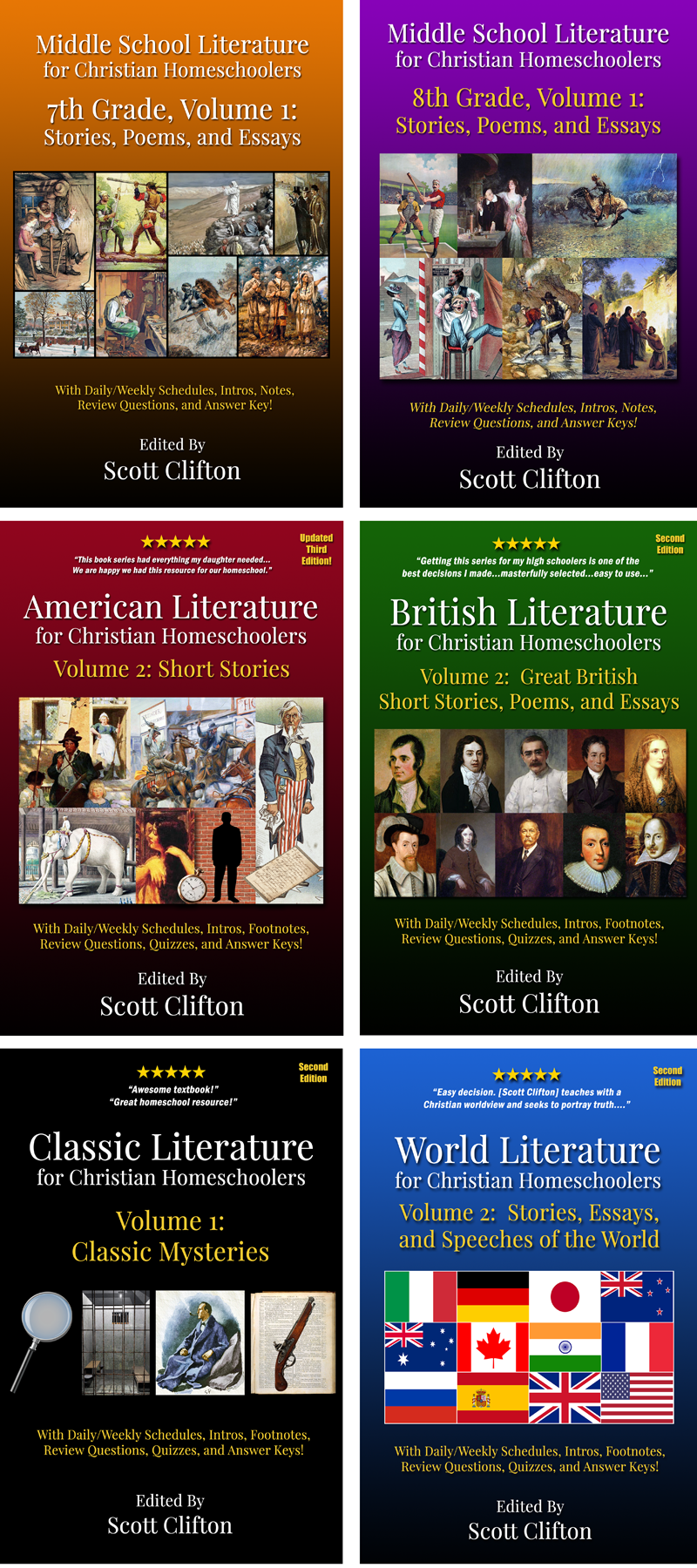 Need an enjoyable, wholesome, self-directed literature program for your Christian homeschooled high schoolers? Set your teens up with some great reads—then watch them take off on their own and have fun doing it!
You love your kids and want them to read the best stuff: true classics, not just any old writings that the world calls "classics."  Literature for Christian Homeschoolers is an exciting, faith-affirming, structured literature program with everything your students need for success.
Scott Clifton—author, homeschool dad of seven, and high school co-op literature teacher since 2002—has scoured the world (and a few other planets) for just the kind of fiction and non-fiction you want your young person to read.
These sets are packed with high-quality essays, novels, short stories, speeches, letters, and poems—including many hidden gems you've probably never heard of!  And each of the four Literature for Christian Homeschoolers sets (American, Classic, British, World) is designed to make reading fun and edifying for students, and a breeze for homeschooling parents.
Each set includes the following:
Fun, interesting, edifying reading selections!
A Biblical worldview
Introductions
Footnotes
Review questions
A convenient, 30-week, 4-day-per week reading plan
Questions for additional thought
Quizzes
Review question answer keys
Quiz answer keys
American Literature and Classic Literature are 9th/10th grade sets; if your student isn't taking classes with me, you can start with either one of those sets in 9th grade and do the other set in 10th grade.
British Literature and World Literature are 11th/12th grade sets, and similarly, you can start either one of those sets for 11th grade and complete the other set in 12th grade.
Click on one of the below links to be directed to the literature set! (Or there are links under the "Books" heading at the top of the page.)
American Literature for Christian Homeschoolers • British Literature for Christian Homeschoolers
Classic Literature for Christian Homeschoolers • World Literature for Christian Homeschoolers
Each set is available at Amazon.com; just click on link directly above to open up its specific Amazon.com page! (As an Amazon Associate, I earn from qualifying purchases; if you make a purchase from one of these links, I receive a small commission. This doesn't affect the price for that item!)